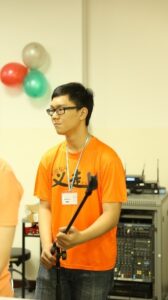 I am grateful to Bethesda Cathedral Tuition Centre (BCTC) for helping me improve tremendously in my English and Mathematics. I have been with the Centre for six consecutive years and I really enjoyed the teaching method and system. Every new year, the teachers are truly nice and dedicated. Without their help and patience, I would never have been able to score a band 1 in my Math and English.
My six years at BCTC have been the most memorable. Studies were interspersed with the occasional field trips to places such as frog farm, hydroponics farm and other interesting places, making learning fun and interesting. The weekly Rest and Recreation program ( RnR ) on Saturday not only allows me to have fun, but also learn more about Jesus and important values of life.
To my surprise, I scored a 254 out of 300 for my PSLE. Many thanks to the teachers at Tuition Centre. With their continual guidance and teaching, together with diligence and hard work, I was able to attain such a score. Achieving good results and the right values of life were more than what I could have asked for in my six year journey with BCTC.
I am now studying at Victoria Junior College and have been serving in RnR as a student helper for more than 5 years.
Lai Zu En
2011 TOP PSLE STUDENT AT BCTC with a T score of 254!
I am very thankful to Bethesda Cathedral Tuition Centre (BCTC) in guiding me for 8 consecutive years through my kindergarten and primary school life. The invaluable guidance from the teachers at BCTC and their constant encouragement motivated me to strive for excellence. The classroom experience in BCTC is very different compared to my school. The teachers at BCTC make their teaching more engaging to the students by having discussions. I also received extra guidance from them as the class size was smaller, aiding my learning journey.
Furthermore, the "Rest and Recreation" ( RnR ) Program held during the tuition hours, has nurtured me into a fine teenager. Values are taught with engaging videos, games, object lessons and skits. These values stay rooted in my mind and I am 100 percent sure that it's most helpful to me. This programme also provides great opportunities to make friends which has been very beneficial to me. I also learned more about Jesus during the RnR lessons, even though I'm not a Christian.
BCTC has shaped me both academically and intellectually. This is the main reason why I could score 263 for my PSLE with 3A* and an A. I am truly thankful to BCTC for helping and allowing me to enjoy my teenage life in Raffles Institution currently.
I am now back in BCTC, serving in RnR weekly as a student helper.
AYYAPAN LAKSHMANAN
2015 TOP PSLE STUDENT AT BCTC with a T score of 263!
I attended BC tuition since I was in Primary 3 (2005 – 2008). The tuition program was fun and I always looked forward to Saturdays, spending time with tuition teachers and friends. Besides having teachers who were actually pretty good at explaining and teaching, the good thing about BCTC was the children's programme after class and the holistic education of teaching students beyond being just book-smart. After classes, we had a children's programme (RnR) to do fun activities and games to learn teamwork, bond with our peers and develop good character traits.
At BCTC, I learnt a lot of interpersonal skills and soft skills to interact to do group work. I also loved the children camps they organised which I went for once. The camp was engaging and a smart way to spend my June Holidays. Many iconic memories were made in those 4 years I was at BCTC!
Thank you, BC!
Matilda Chia
(2008 Top Student)
Studying at BCTC from 2017 to 2019 was very fun as the people there are nice to be with and they have outings every now and then. The teachers were very helpful as they always answered my questions and were clear about everything. I have benefitted from this tuition by getting better at school subjects and having fun new experiences.
Aedan Tan (2019 P6 Graduate)
"Akshayaa was enrolled in BCTC since she was in primary 1. It has been 5 years and Akshayaa enjoys going for tuition just the same. Not only does the program impart academic knowledge through its dedicated teachers, the programme also encourages the students to express themselves in various art forms through drama and singing during the RnR activities.

BCTC also engages with the students during the school holidays by organizing various activities such as camps, field trips and carnivals where the teachers and staff have been very welcoming despite us being of different religious beliefs. Akshayaa has been able to bond with the children around the neighbourhood and establish good relationships with them, making her childhood filled with fond memories. I wish BCTC to continue to extend their services to our community regardless of race and religion. God bless!"

Usharani, Parent of Akshayaa
"Daphne started attending the Tuition Centre since she was five years old, Kindergarten 1. The teachers in the Tuition Centre are all very pleasant and helpful. The environment has nurtured and built a strong foundation in Daphne's interest in studying and capability, which helped her to adjust easily in primary school. It also helped her build good character and make new friends. Through the RnR Character Building program, Daphne was able to achieve an Edusave Character Award."

Parent of Daphne Lim Huey Xin (P5) in 2017
My wife and I are glad that we have chosen the church Tuition Centre for Yin Zhe and Yin Wei's English and Math tuition since September 2016.
We felt that our son Fong Yin Wei was stressed in Primary Five last year as he could not cope with his academics. After attending the church tuition centre, he mentioned that he felt happy whenever he attends the R&R Sing-along-sessions. The teachers in the centre are also very patient in coaching both of my children. 
Hence, I strongly recommend Bethesda Cathedral Tuition Centre to your children.   
Fong Chee Seng, Parents of Fong Yin Zhe (P4) and Fong Yin Wei (P6) in 2017
I would like to thank the BCTC admin and tuition team for their time and effort in helping my children at every tuition lesson.  The kids enjoyed attending the lessons, with teachers who are gentle and patient.  The weekly praise and worship session remind the children that upon all, God is with us.
I chanced upon the BCTC tuition lessons while searching for church based tuition as I myself benefitted from lessons taught by volunteers in a church environment.  I am grateful and thankful to the many volunteers who help out in this tuition ministry.
Parent of Fabian (P6), Edwin (RnR member), Gwen (P3) in 2020